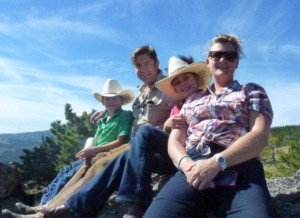 Ranch vacations, the travel trend of 2016!
Ranch vacations are 'The Vacation That Has It All' basically! Ranch vacations should not be overlooked as being only suitable for wannabe cowboys and horse-riders. No sireeee! This couldn't be further from the reality. Of course they're ideal for people requiring their Wild West or equestrian fix, but we at Top50 Ranches have the insider knowledge to share with you, that they are so much more! Interested to see how they might fit you and your fellow travellers…? Read on!
Family matters
Many of the top ranches round the world are specifically geared towards accommodating everyone in the family, regardless of age; Red Horse Mountain Ranch and Lone Mountain Ranch have both won prestigious Awards of Excellence for creating havens for multi-generational families – granny can kick back while you go wine tasting and the kids learn to kayak!
And according to reviews by guests on Trip Advisor, the best ranch for those of you with younger children isAlisal Ranch. We all know those teens can be hard to impress so the award-winning Elk Mountain Ranch is the answer, as they were voted the ranch with 'Best All-Round Activities For The Entire Family' in the 2015 Ranch Awards of Excellence.
Want a truly wholesome, robust ranch experience? Deep Canyon Guest Ranch celebrates time-honored traditions while, according to Trip Advisor, Lazy L&B Ranch gives visitors the feeling of being a truly family-friendly holiday spot. The famous Ranch at Rock Creek guarantees quality all round, from the food to the activities, riding and accommodation.